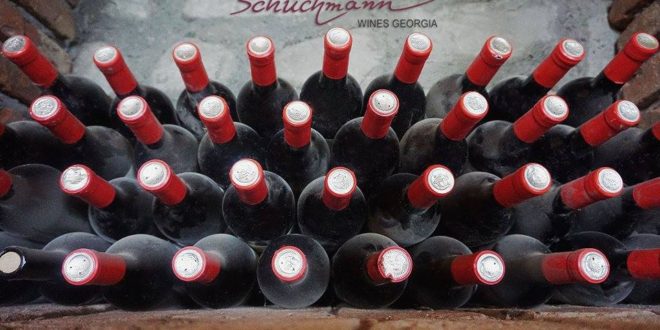 04 Oct

Brand History – Schuchmann Wines Georgia

Posted at 20:56h

in

press
European management, Georgian Product – this is a key concept of the company. With western education the company team members produce absolutely Georgian products.
Schuchmann Wines Georgia  produces wines for all categories of consumers with various tastes. The company portfolio unites both light, aromatic summer and joyful red wines, as well as reserved precious, golden line, special wines for gourmand clients – these wines  require a little more depth, analysis and thought.
Key strategy of the company is: "We Make Quality, not Quantity".
Idea of Company Foundation –  Schuchmann Wines Georgia was founded  by German and businessman Burkhard Schuchmann in 2009. Having fallen in love with Georgia, Georgian traditions and wines, he bought vineyards, arranged château and launched bottling one of the favorite and popular wine varieties for wine lovers.
Initially, the company used to produce about 4-5 varieties of wines. Exports indicators were also unimportant. At the beginning, we had Vinoterra, a small wine cellar,  where wines were bottled in small volumes. At this stage, the company bottles more than 20 varieties of wine, Nutsa Abramishvili, director general of  Schuchmann Wines Georgia, noted.
The years of 2012-2013 were a decisive period for the company. In that period, the company extended production and  diversified markets. As a result, the output increased, exports markets and wine assortment were expanded. Today, the company wines are sold in about 25 countries.
Company Success Formula – Wine is our primary product and key business direction. Our company launched operation in this segment. However, our active involvement in various other fields have preconditioned our success, including in wine tourism, Wellness , gastronomic direction, as well as international tourism company Schuchmann Travel.  In a short period, these directions have raised the interest in our company, as well as our active efforts and various aggressive marketing campaigns on international market», Nutsa Abramishvili pointed out.
Key Problem – The company had projects that were suspended because of various obstacles. At the same time, the company considers these obstacles in different way – if some projects were suspended   because of difficulties, we think, those projects were not relevant in those specific periods. At the same time, one day those suspended projects will be implemented anyway.
«Consequently, we consider all challenges positively that enable us to gain experience.   Therefore, these difficulties are forgotten in a short period and I would not specially emphasize them», Nutsa Abramishvili said.
History of Company Logo and Name – In general, the brand of Schuchmann takes origin from  the name of benefactor Burkhard Schuchmann. Consequently, the surname is repeated in the brand. It is very important  that the brand always meet high quality standards in any segment, be it winemaking, service,or wine spa. Brand and logo of Schuchmann is important in all directions, Nutsa Abramishvili noted.
«It is very important that the company name is related to Mr. Schuchmann, who thinks it us huge honor for him to apply his own name in all our directions», Nutsa Abramishvili noted.
Why Schuchmann Wines Georgia – «I believe we serve consumers with refined taste. They genuinely appreciate our gastronomic novelties, know elements of our wines. Consequently, we serve consumers and guests of refined taste. Therefore, we always note that the company management members are number  one , who  consume our own products and use  services. Consequently, we are very pretentious and exacting people. If we like and fine something acceptable, then it is acceptable for everybody. We believe that we are frontline segment of this success and this is the answer to the question – Why Schuchmann. We create products and services for gourmand people, who appreciate tastes and feelings. Tastes in gastronomy, taste and aroma in wine, and feelings in wine  spa. We produce all the services that make people feel happy.